Zandzemble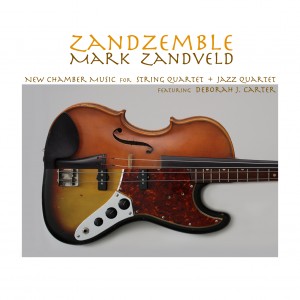 Zandzemble is a my latest project, for which I composed ten pieces for string quartet, vibes, guitar and bass. Deborah J. Carter wrote and sang lyrics to half of them as well. The music lives somewhere between modern composed classical and jazz, offering both extensive counterpoint and improvised parts, seeking for beauty in the integration of the two.
With the CD just released, we've been getting great reviews recently:
"Open your ears, and just let what's offered come over you, which is a lot, from the gorgeous voice of Deborah Carter to the inventive arrangements. A very special CD!" – Aad van Nieuwkerk, VPRO Radio
"The sounds of vibraphone and guitar, together with the string quartet, create a unique musical idiom. The refined arrangements of Mark Zandveld are tasteful and the compositions authentic. After hearing it, the listener wonders in pleasant amazement what to call this music" NTB magazine
"jazz and classical music blend seamlessly into one another"
"beautiful, multifaceted compositions"
Hans Invernizzi, Jazzflits magazine
Listen audio fragments on the Zandzemble website.